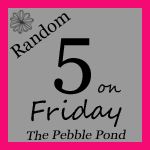 I was doing the dishes and looked out back just in time to see the 5yr old (in her fairy dress no less) chasing her 16 yr old brother and 15 yr old cousin with a bat in her hands. It seems they were playing Hunger Games tag. Oh dear.
Today is the last day to register if you want to participate in the 13 week Hello Mornings Challenge. Â There is still room in the twitter group I am in – look for Pacific Coast – Sara Heer's group. Â Let me know if you join us!
I tried to set up my blog on Facebook via Networked Blogs – I don't know if I did it right and there is so much to learn. I hope my friends and family will follow me there. Thank you April, Debra and Sivje for being my first followers!
I can't say enough how much I love this change to my daily routine! I get up, get my coffee, grab my Bible & Journal and start my day. Â Still not doing exercise, but right now I am satisfied. Â Baby steps, right? Â I was a bit worried that work would suffer, but starting later doesn't seem to change anything nor am I having problems getting my hours in (I work about 4 hrs M-F – rarely evenings and weekends – I LOVE working at home!)
Today my 2nd oldest is off for 3 days with friends at a destruction derby – yeah for him. I would not find that fun! But I bet he loves every minute of it! Â Oldest is supposed to be visiting Woodland next week – hope he makes some time for us (he's stay in North Highlands again with his friends family). Â J3 is doing well, last few weeks of hockey. Not sure we can afford it after this session. 🙁 Â He is still looking forward to being homeschooled. He's making a list of all the science experiments he wants to do. Â Sissy is doing well too. Â Not sure yet if she will repeat Kindergarten next year – she seems to be doing better this semester than last – but that's just my observation. Personally I think she'd benefit from repeating – but I've been told they don't like to do that. Â I plan to homeschool here in a few years, so it doesn't really matter much to me.
So, that's my randomness on this Friday! Â If you click on the graphic above, you can read other random Friday posts! Have a great weekend!