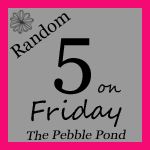 Linking up with Miranda's Random 5 on Friday – let me know if you join too!
Our oldest came home last night and so far we are having a good time together! Maybe this last incident was really what it was going to take. I hope so because I am praying really hard for this kid! Â 

Reading one of the books from my list and it is really making me think – so much that I've been thinking more than knitting or blogging – you know I'm serious then! Â But it explains so much about how people work! Not sure who recommended this book to me – but THANK YOU!! The book is called "Beyond Consequences, Logic, and Control" by Heather Forbes, check it out if you have kiddos or family who have dealt with trauma (it affects everything they do!).
As you might have seen on Facebook and Twitter, Hubs and I joined a local health club for their aqua classes. Â We've gone to two classes so far and had a blast (well, I have…he's adjusting!) Â I love, love, love anything in the water. Â And, regular exercise is so helpful to my frame of mind!
Next week is the last 4 days of school for my 2 youngest kids. Â And, it sounds like it will be fun! Â But I still wish they could just be home next week!
I am finishing up week 4 with the Hello Morning gals and it is making such a difference in my day-to-day life. Â It is so great to wake up before the sun, sip some coffee and just enjoy the quiet Bible reading time before the family is up. Â Then I can greet them with a smile and a plan for the day! If you need to make a change, give it a try! Â You won't be sorry!